At Sierra, we are committed to achieving excellence in our industry by providing outstanding service and value to our customers. With the support of both new and loyal clients alike who entrust our team to consistently deliver exceptional results, we are delighted to announce that our concrete tilt-up building portfolio has recently surpassed an impressive milestone of 40,000,000 square feet.

Our extensive experience in tilt-up construction, coupled with our dedicated full-time concrete crews, enables us to offer cost competitiveness, exceptional quality, and unmatched schedule control. By leveraging our expertise and utilizing proven methods, we consistently deliver superior outcomes to our clients.
Sierra's concrete tilt-up building portfolio includes over 200 projects, encompassing more than 250 buildings throughout the Pacific Northwest. Beyond just our core industrial projects, this list spans multiple market sectors including office and retail projects. This substantial portfolio stands as a testament to our expertise in delivering quality projects to our clients throughout the region.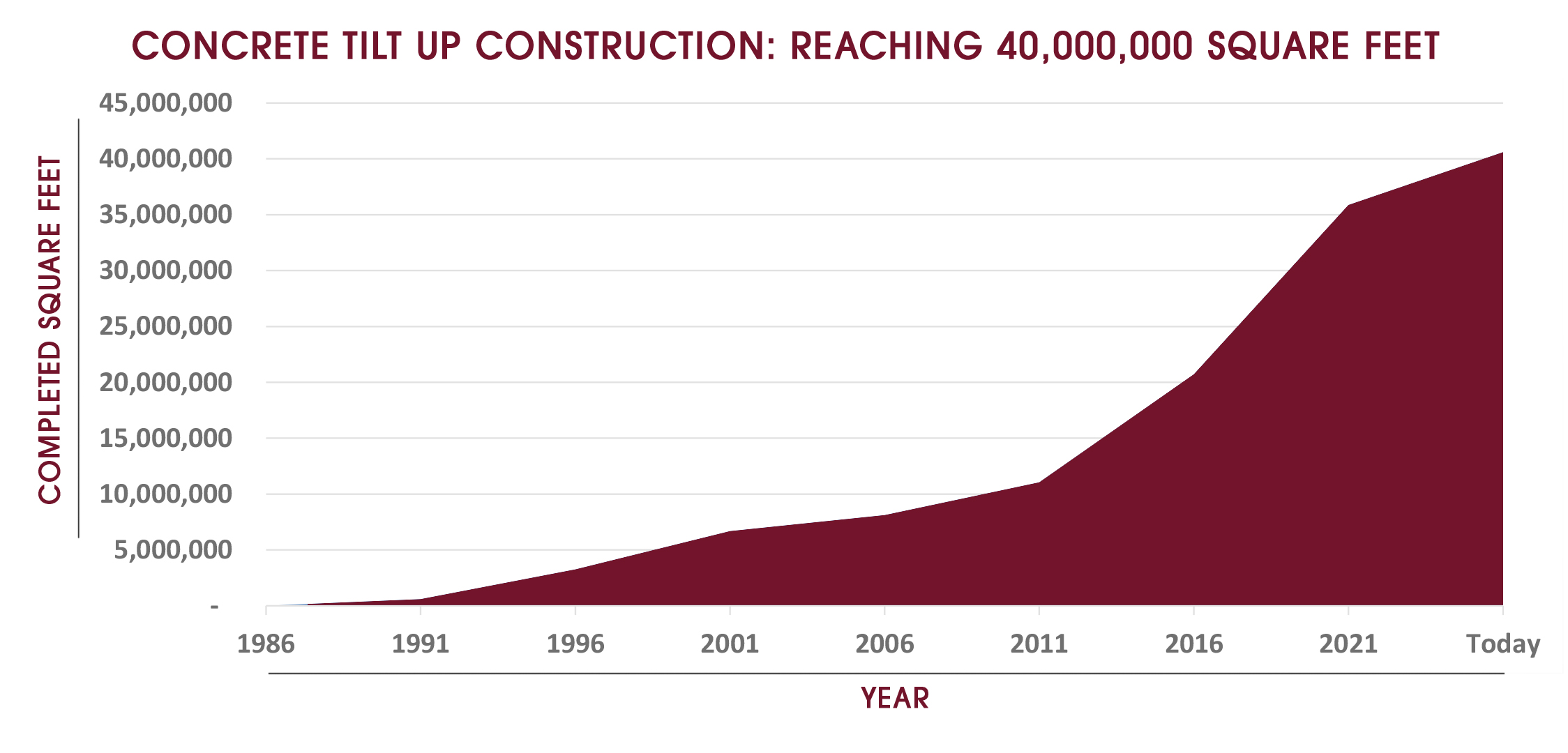 Over the course of our 37-year history, there has been a notable increase in demand for the industrial market. Warehouses and distribution centers have not only increased the size of their footprint and clear height, but have evolved into multi-story structures. While our concrete portfolio has been comprised primarily of single-story buildings, we have added multi-story structures to our project list in areas where available land options are slim and floor space demands are high. By incorporating concrete panels with steel structures, we have been able to successfully construct taller buildings, surpassing overall heights of 60 feet. A few noteworthy examples of these unique multi-story projects include Prologis' Georgetown Crossroads and Avenue55's Track Six, both in south Seattle.

In addition to vertical growth, building footprints have also expanded. Sierra has completed multiple buildings in the 'mega-warehouse' category with footprints over 500,000 square feet. Our upcoming project pipeline indicates that these mega-warehouses are becoming the norm instead of the exception.
SIERRA'S LARGEST BUILDINGS TO DATE
(By Building Footprint)


| | | | |
| --- | --- | --- | --- |
| Completed | Project | Location | Size |
| Pending | | Milton, WA | 1,021,791 square feet |
| 2018 | | Troutdale, OR | 857,483 square feet |
| 2018 | | Tacoma, WA | 828,620 square feet |
| 2016 | | Kent, WA | 811,673 square feet |
| 2018 | | Lacey, WA | 810,988 square feet |
| 2018 | | Tacoma, WA | 770,195 square feet |
| 2006 | | Centralia, WA | 715,070 square feet |
| 2019 | | DuPont, WA | 628,640 square feet |
| 2022 | | Sumner, WA | 501,104 square feet |
While these single, massive buildings contribute significantly to our square footage totals, Sierra has also completed numerous multi-building developments in recent years. As large complex sites are redeveloped, projects like Pacific Gateway in Kent and SeaPORT Logistics Center in Sumner have emerged to cater to a diverse range of tenants with varying distribution, manufacturing, and warehousing needs.
Sierra has over 6 million square feet of industrial projects in the works. We already have our sights set on our next milestone of 50 million square feet, as we approach our 40th anniversary in 2026.
We attribute our success not only to the exceptional projects we undertake, but also to the invaluable contributions of our dedicated support and field teams. As market demands have evolved over the years, our hardworking and family-oriented company has risen to the challenge, creating a truly rewarding experience for all involved. Our impressive portfolio stands as a testament to their unwavering commitment and expertise.