Information about Working at Sierra
OUR SUCCESS STARTS WITH OUR TEAM.
We believe in hiring talented people for their long-term potential, giving them the responsibility and authority to be effective team players. We look for trustworthy individuals who keep their word, are responsible for their commitments, roll with the punches, adapt to change, and respond to opportunities and challenges. Most importantly, we apply th
e highest level of business integrity as a foundation for our actions and decisions. Having the company's full support, Sierra employees consistently produce top quality work that exceeds client objectives and promotes future construction opportunities.
The people of Sierra work hard, have a passion for construction, thrive as part of a team, and love the industry. Our company culture of family stems from our tight knit leadership that has been the basis of our success from the beginning.

Our management teams are well versed in all aspects of construction. We empower our employees to become well rounded individuals that understand all aspects of the industry. By hiring people with diverse backgrounds and experiences, our dedicated teams are built from open minded, hard working, creative thinkers that can think outside the box collaboratively.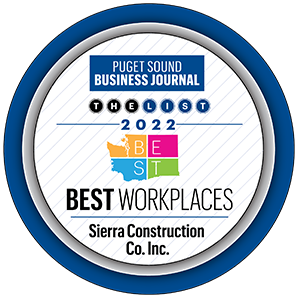 In 2022, Sierra Construction made the Puget Sound Business Journal's Best Workplaces list. The competition is open to all industries; and after competing against hundreds of submissions, we are proud to say that Sierra Construction was a Top 25 company alongside other extraordinary businesses. We are proud of the culture we have developed over our 36 years as a general contractor in the Pacific Northwest.
IT STARTS WITH OUR PEOPLE
We're looking for passionate individuals who work hard and like to have fun along the way.


Employee Spotlight
Perks & Benefits
EMPLOYEE

Medical & Dental Insurance
Company Paid Long Term Disability & Group Life Insurance
Flexible Spending or Health Savings Accounts
401k Employer Match
Profit Sharing Plan
Paid Time Off, Including Holidays

Weekly Payroll
Employee Assistance Program
Legal Assistance

Invested in your well-being
Work-Life balance

Open & Collaborative Management
Team Building Events & Happy Hours
Family Atmosphere
Project Win & Milestone Celebrations
Golf/Recreational Events
Employee Merchandise Store
Our work environment has become our home away from home and our co-workers are like family. We are dedicated to preserving our company's family feel as we continue to grow and prosper. We intend to operate as a close-knit team of hard-working people.


#peopleofsierra