Thank you everyone who came out for Sierra's 2023 Hackfest!
In contrast to the mist and rain of last years event, many left Saturday evening with rosy cheeks, sun-fried noggins and a fair share of mosquito bites - but it was a great day in the sunshine and good company!
We kicked the day off with a Putter Shootout, where everyone lined up around the putting green and took a shot for the selected hole. While no one sunk it, Mitch Kranson's ball #17 was the closest and won the Taylormade Putter!
Thank you Lisa Diebler and Jessica Dowrey for keeping folks entertained with a mini game at hole 13, and Carrie Bodnar for running around the course all afternoon with me ensuring everyone stayed hydrated, sunscreened, bug-sprayed, and well stocked on balls and Ts.
Earning bragging rights in regards to golf play, the Top Three teams below:
Scoring 58, Evan Heeringa, John Dahlman, Jon Sharpe & Josh Boettner
Scoring 61, Rob Overton, Jennie Overton, John Barnes & Kelly Barnes
Scoring 64, Billy Hohenstein, Brandon Henderson, Jeremiah Walker & Josh Walker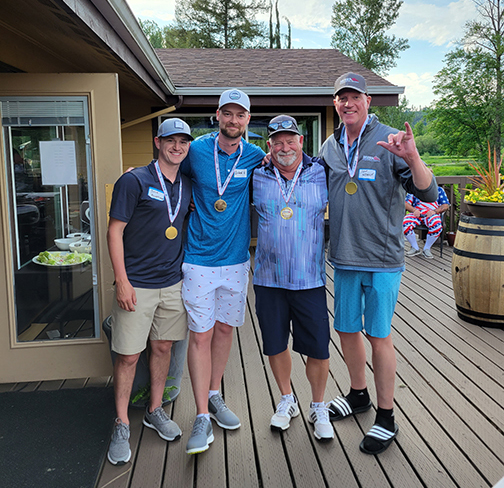 In light of the fact we are all in this just for fun - I also added a 'Best of the Worst' title complete with their own medals, which were proudly donned this year by Jacob Bodnar, Ryan Hogan, Alex Stephens & Ed Equihua (though I will note, 5 teams didn't supply their scores...).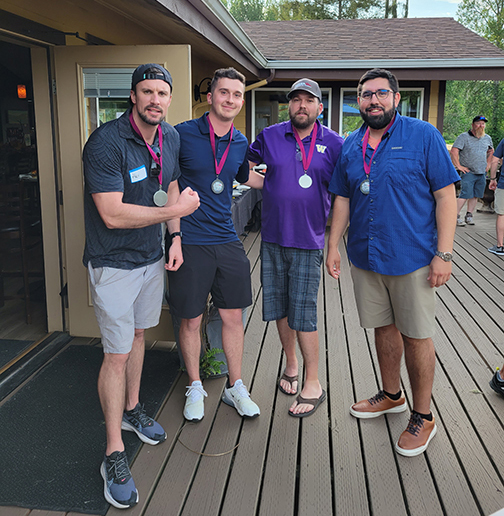 After dinner and golf awards, we wrapped up the evening with some raffle prizes that were generously donated by our subcontractors. Please also be sure to thank the below when you see them next!
HOS Brothers: 2x Guided Fishing Trips with Tall Tails

Evergreen Concrete: 2x Mariners Game-Day Baskets
McKee Enterprises: Scotty Cameron Select Putter
Evergreen HVAC: Taylormade Spider Putter

Weatherguard: BREEO 24" Firepit Set
Geopiers NW: 2x Woodinville Whiskey Gift Sets & RTIC Cooler
CanAm Coatings: Makers Mark Whiskey
Boone Electric: Sonos Move Speaker
Brundage Bone: 50" TV
Maxim Crane: Taylormade Spider Putter
Skytech Aerial Photo: $200 El Goucho Gift Card
Kirby Electric: Camp Backpack Set & Loaded Duffle Bag
Miles: Rainiers Baseball Club Seats
Unknown: Another BREEO Firepit - anyone know who donated it?!
Thank you again for everyone who came out and joined the party! If you would like any of the below photos in digital copy, feel free to email me at danyellek@sierraind.com