Happy Holidays Sierra!!! A few seasonal updates for everyone:
*Christmas Sweater Contest*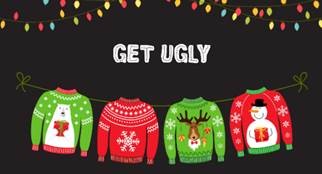 In lieu of our normal company Holiday gatherings, we are going to host a Virtual Christmas Sweater contest!! We are excited that this platform will open up participation to the entire company. The prize will be a $100 Amazon Gift Card for each category – and the two categories will be (with potential for additional, based on number of photos submitted!):
Best Holiday Spirit Sweater
Best Overall Photo (Get creative with the setting – involve your kids, pets, a great background, or?!)
Rules:
Employee must be wearing the sweater
Submit your photo via email to me (danyelleh@sierraind.com) by Friday, December 18th.
Voting will take place via an emailed SurveyMonkey to all employees on Monday, December 21st with results announced Wednesday the 23rd.

*Season of Giving*
This year, we will not be hosting a food drive. Instead, Sierra will be donating financially to four charities that provide food to those in need, right here in the Pacific Northwest:
Hopelink (Serves King and Snohomish Counties)
Nourish Pierce County (Serves Tacoma and surrounding areas)
Northwest Harvest (Serves Washington State with a South Seattle Community Market)
Sunshine Division (Serves Portland and surrounding areas)

*Employee Calendars*
Employee calendars are in the works! They will be distributed the week of the December 21st to offices and jobsites.